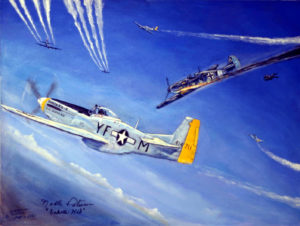 Noble Peterson served with the 358th Squadron of the 355th Fighter Group based at Steeple Morden in Cambridgeshire, England.  Noble flew two tours, the first in a P-51B, (Dakota Kid) and the second in a D model, (Dakota Kid II).  Known as the Morden Strafers, the 355th became renowned for their low-level attacks on German targets after being released from escort duties. 
 On one such mission while beating up a German aerodrome, Noble caught sight of a multi cannon antiaircraft emplacement nestled in among some hay stacks.  They were four barreled 20mm Flakveirling with an eight man crew.  What gave them away was the tell-tail puff, puff, puff smoke signatures of the cannons as they fired.  He noted the location of the gun emplacement as the group withdrew to the west.  He led his flight in the withdrawal at several thousand feet, all the time noting landmarks over which they were passing.  When they were some five miles from the aerodrome, he signaled he was taking another run, alone, reversed direction and got down on the deck following the landmarks back to the aerodrome, hugging the ground, rising to go over trees and buildings.  When he was less than a half mile from the hay stacks, he pulled up until he could clearly see the site, and then roared toward it in a power glide, unleashing his six .50 calibers into the target.  Dust and debris erupted from the haystacks and gun emplacement where the rounds hit.  As he passed over the site he took a quick glance down over his shoulder and caught a fleeting snapshot of what his hundreds of half inch bullets had done to the gun crew.  That single terrible image was seared into his memory the rest of his life.
      Some of Noble's most precious memories was using his war plane to save lives.  He always flew his machine very carefully, never slamming the throttle open and closed.  Other pilots were constantly opening and closing their throttles to keep in formation.  Noble made throttle changes slowly, by degrees, and leaned his mixture on cruise.  He always got back to base with much more fuel than the others in his flight, even though they had flown virtually the same distance.  It was because of this that many times he could remain airborne much longer if the need arose.  
  One such time was the late fall of 1944.  Noble was returning with his flight over the English Channel when they heard a mayday call of two planes running out of fuel somewhere north of them.  Noble looked down at the cold, cold Channel and thought how miserable it would be to be in that water.  He checked his fuel supply and, like usual, he had enough to stay airborne for awhile longer.  Flying north he reached where the planes had been and caught sight of two parachutes descending about a half mile apart.  He followed them down and anxiously watched as they were able to get in their small rafts in the rough seas.  While keeping an eye on both rafts, which was hard to do in the heavy swells, he called Air Sea Rescue and was informed a launch was on its way.  Noble checked his fuel supply.  His two wing tanks had fuel left as he began flying a figure eight course between the two and called Air Sea Rescue again.  The launch was still 20 miles out.  He leaned the mixture as much as possible and stayed on station.  At the altitude he was flying, if he ran out of fuel in one tank and the engine quit, he would be in the drink before he could recover, so every 15 minutes he would gain some altitude and switch tanks to keep from running one tank dry.  He continue his vigil.  Another call to ASR; still ten miles out.  Grab some altitude, switch tanks again.  Finally, in the distance, he saw the launch bucking the waves but was on a course that would miss the pilots.  "ASR, are you in contact with the Launch?"
  "Yes!"
  "Have them correct their course!"  The launch turned toward the rafts.  Noble stayed until the pilots were safely in the boat.  One last pass resulted in exuberant waves from all on board.
  He got back to Steeple Morden several hours after the others and missed out on the debriefing.  Hungry and tired, he caught a bite and hit the sack.  Just another day in the Eighth Air Force.
 Many years later Noble started reminiscing about his time in the service and the men with whom he served.   His memory also drifted back to those two pilots he had last seen after they were pulled from the Channel.  He wondered, "Did they survive the war?  Where are they now?  If it could be possible, it would be great if he could visit with one or both of them."  He had forgotten the date the incident happened, and he hadn't written it in his log.  Having gotten back after debriefing it wouldn't be recorded in Squadron records, either.
  Noble made some phone calls and inquiries and finally was directed to a lady in Hawaii who had the records of all the Air Sea Rescues conducted from the English Isles. (This was before the internet) Calling the lady, Noble related the incident but couldn't nail down a specific date.  The lady explained that thousands of flyers had been rescued during the war and to find one particular event without a date or names of the individuals involved would be very difficult.  Noble offered to pay the lady for her time to search the records.  The lady declined, it would be just too hard to accomplish.  Disappointed, Noble realized it was not to be.  
Noble and his crew chief……
When Noble first met his crew chief, he didn't know what to expect of this young 19 year old, Robert Coleman.  Would this kid be able to keep his P-51 flying?  Robert Coleman proved himself admirably.  His P51 was always excellently serviced and ready to go when called.
  One day he went to Noble and asked if it would it be OK to paint Long Island Kid below the exhausts on Dakota Kid II.  Robert Coleman was from New York.  "What could he say?"  Noble flew the plane but Robert kept it flying.  It was just as much his plane as Noble's.  And so, Long Island Kid was also added to the cowling.  This is the only time known that a crew chief was acknowledged on the plane's name or artwork.
  One thing Noble didn't find out until many years after the war was at a Group Reunion. Robert Coleman told him that every morning he would check the board to see if Noble would be flying that day.  If not, he would go out and pull the cowling to make it look like it was being serviced.  Sometimes when readying for a mission a plane might have a sudden mechanical problem.  In such cases the pilot could grab any other plane that was ready but not going on that mission.  Coleman didn't want anyone flying his plane but Peterson!  He knew that many pilots were rough with their airplanes and Robert didn't want them near his Dakota Kid.    
Babies…….
  One of the innovations that enabled fighter range deep into Germany was the wing drop tanks, or "Babies" as they were popularly known.  Metal tanks were first used but in a war economy where metal was in limited supply and the tanks were commonly jettisoned after use, pressed paper tanks were developed to be used instead.  Filling of the tanks took place immediately before the mission, because if they were filled beforehand, the pressed paper would absorb the fuel and would begin to get soggy and the tanks would droop over an extended period of time.
 Noble related that take off was always done using fuel from the fuselage tank right behind the pilot's seat and continued until that tank was about half empty, then fuel would be taken from the drop tanks.  The reason for this was the Mustang handled much better if the fuselage tank was not full. Thus, it was advantageous to run fuel out of that tank first. 
  One day a new young pilot was assigned to Noble's flight. This was his first official mission, a deep penetration escort into Germany.  Take off, as usual, was from the fuselage tank, and when they got over the Channel Noble reminded his flight to switch to drop tanks.  When the tanks were empty or nearly empty far into the Reichland, Noble ordered his flight to drop their "babies."  They did and the new guy's plane jumped!  He had released 2 full drop tanks!  In all the excitement of his first mission he had forgotten to switch to the drop tanks.  Now what!  Here he was, that far into Germany, with very little fuel left.  There was a very good possibility of having to bail out and becoming a POW.  OK, Noble radioed,  "Turn around and reduce power, start gliding back toward England.  When you get down to a thousand feet, just apply enough power to stay airborne.  I'll escort you and try to take on any German planes we may encounter."
 They took care to avoid populated areas or known flak sites.  Noble advised the new pilot to keep his speed just above a stall.  It was slow going!  Amazingly the trip was uneventful, and they were not even shot at as far as they knew.  They did get shocked stares from some German soldiers that were marching down a road, but no one even bothered to shoulder their weapon.  They even received friendly waves from German farmers working in the fields.  It was sure a good way to get a beautiful tour of the German countryside. 
  Finally, they reached the Netherlands and breathed a little easier.  By no means yet were they out of the woods as Holland was still occupied. Still, there was an active resistance that would help you if you dropped in providing the Germans didn't get to you first.  The fuel situation was holding, and Noble started to think they might even be able to reach the Channel.  "How's your fuel?"
  "I'm still showing a few gallons."
 "We've crossed the Dutch coast," Noble radioed his Newbie.  "Shoot for England?"
  "Yes. Not much left, but…." 
 When they crossed the English coast, Noble and his charge breathed a relieved sigh.  "Hell, we've gone this far, let's try for home base."  They made it.  The ground crew said there was nothing more than a few gallons left in his tanks.  This showed how fuel efficient the Mustang was if you knew how to manage it.  If the same thing had happened to a P-47, they probably would not have gotten out of Germany.     
       After the war, Noble went home, started ranching, and raised a wonderful family.